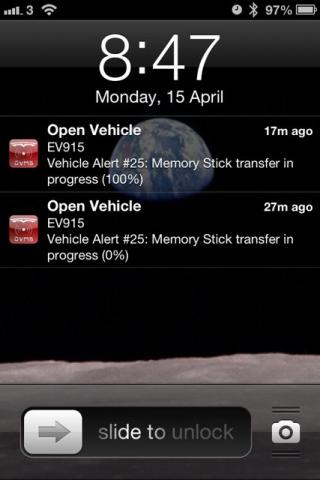 OVMS vehicle firmware v2.3.2 has been released. It is on github now, as well as Tom's download site. Change log follows.
013-04-16 2.3.2       Firmware 2.3.2
                       ## Add facility to suppress vehicle alerts via carbits feature +16
                       ## 12V A/D conversion fix (better, but not perfect)
                       ## Stub for tesla roadster charge-time-remaining
                       ## Fix SMS STAT odometer for kilometers
                       ## Limit experimental speedo for Tesla Roadster to maximum 10 repeats

2013-04-14 2.3.1       Firmware 2.3.1
                       ## Add VEHICLE and VEHICLE? sms commands
                       ## errordata unsigned long
                       ## Twizy minor fix: clear power & speed states when CAN goes offline
                       ## Vehicle Errors reported as "Alert", as some are just warnings/informational
                       ## ThinkCity stub
                       ## Tesla Roadster disable CAC streaming once we have a value
                       ## Tesla Roadster: special case notify when usb memory stick transfer reaches 100%
                       ## tomsax extensions for stp_f and STAT sms
                       ## Tazzari fixes
                       ## Vehicle error messages for Tesla Roadster
                       ## Re-arrange wakeup order for tesla roadster commands
                       ## Framework for notification of vehicle error codes
                       ## Twizy V2.6.4
                       ## - RT-GPS-Log extended by power data
                       ## - Fixed a bug with distance measurement (wrong power efficiency)
                       ## - Power statistics just show power sums if not driven
                       ## - Rounding of car_speed
                       ## Support VECE (Vehicle Error Code Expansion)
                       ## Fix for 12V reference init: delays taking first ref until car has been   off for 15 minutes
Major changes are further support for Tazzari Zero, Volt/Ampera and Renault Twizzy, lots of bug fixes, and extensions to the Tesla Roadster support to add vehicle alert messages and battery CAC reporting.