I have a MG ZS EV (2022, Facelift) as Standard Comfort. The car is located in Germany. I ordered an OVMS and successfully configured all things. The dexter-server is used.
But while testing in the car, the main display (in front of the steering wheel did go out). That was spooky!
And also only GPS location was correctly transfered to server. All other values (e.g. SOC) were 0, see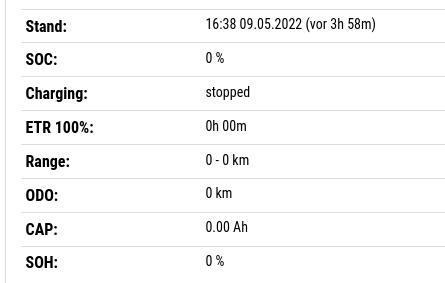 Question: Is the Firmware (3.3.002) and configuration (MG EV (UK/EU)) only possible for the "before facelift" models? Or is there another issue or setting I missed? Which log file could help?
Edit:
After changing the Vehicle fromm UK/EU to TH and driving a few hundred Meters, now Speed, Pressure, Temperature, ODO etc are updated. But: Still no information (SOC, SOH, Temp) about the Battery.