Not strictly an OVMS related problem - but a problem many of us has, or will, run into: The 12V charger defect...
Problem:
Twizy beeps 3 times... Display shows the battery icon and "STOP":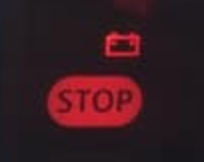 I had this problem for close to a year. In the end I was charging the 12v battery with an external charger everytime I charged the main battery.
I then had to get my Twizy through inspection... so I needed to fix this.
My local Renault dealer had no idea what to do - they couldn't even "talk" to the car... they said. Anyway thanks to dexter/Michael I found a post that seemed like it solved my exact problem. So I implemented the fix found by mario234: Link to twizy-forum.de fix for charger malfunction (You need an account and the site is in german.
It was a bit of a long shot - but it seemed legit and it ended up working.
I have created a tutorial .pdf in english. Anyone interested can grab it here:
https://drive.google.com/file/d/1bfIfEPVV46zPlmC_ATfmwROznE0M3BZ7/view
(It is version 1.0 and has very few images - suggestions for version 1.1 are welcome!)
My Twizy is now charging as it should, has no warning light and went through vehicle inspection without any problems :)